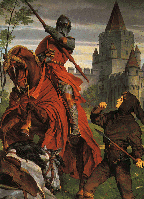 Here's another mystery picture :
This picture was recently used for an advertising poster by Springhill (a paper company). They didn't cite where the original came from, or who the artist was.
I know it illustrates the Arthurian story of Parzival / Perceval and the Red Knight. However, I would like to know who did this illustration, and where it first appeared. Anyone know?
(Again, you can click on the picture to see more detail).